Technical expertise to assist client organisations in establishing detailed risk assessment for all site water systems and associated support.
Employers are required to control the risk of exposure to Legionella bacteria in accordance with Control of Substances Hazardous to Health Regulations 2002 (as amended). This is achieved by following the Approved Code of Practice L8, 2013: The Control of Legionella Bacteria in Water Systems and associated guidance, HSG274.
First Environment is able to consider all available options and assist our clients in implementing the most appropriate Legionella risk control programme for their particular location.
Our Legionella control related services include:
Legionella risk assessment for all water system types
Preparing written schemes for control
Preparing schematic drawings
Record Systems
Sampling, analysis & investigation
Independent audit
Access to competent support for Duty Holders
Training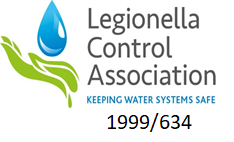 First Environment is a registered company with the Legionella Control Association for the provision of Legionella risk assessments, independent consultancy services, training services, Hot and cold monitoring and inspection, and off site analytical services.
We are regularly audited and assessed by the Legionella Control Association for compliance with their Code of Conduct for Service Providers and the Service Standards for these legionella control services.  Through our membership of the Legionella Control Association the management systems we have developed and your compliance with the Code and Service Standards means that we are well placed to assist our clients in controlling the legionella risk associated with their water systems.